Fishing & Factories, Education & Religion
The History of Toll Road, East Forth Street and Windmill Road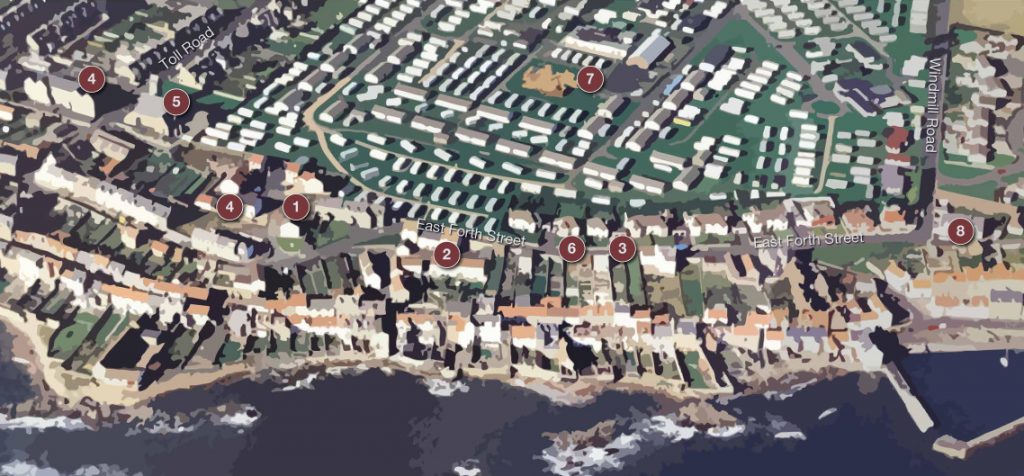 1. Fishing Lassies to Factory Girls
Many oilcloth manufacturing enterprises (locally called oilskin factories) were set up at the height of the herring fishing. John Martin & Co (established 1844) and Robert Watson & Co Ltd (established 1859) traded and flourished until the 1960s.
The Fishing Lassies of the 19th century became the factory workers of the early 20th century. The firms employed many thousands of workers over these decades.
2. Nets, Sails, Rope and Buoys
In the early part of the 19th Century fishing nets were made from hemp and linen. From the 1820s factory-made nets became available and from 1860 onwards cotton
nets were introduced. Fishermen purchased all of their boat's equipment – nets, lines, rope, sails, buoys and hooks – from local Cellardyke suppliers. They also purchased all their oilskin protective clothing from these establishments.
A small number of Cellardyke whalers sailed from Leith to the Greenland waters. One such whaler was Captain William Smith (b1780) , Artic explorer and master of the Artic Whalers William and Anne and Caledonia. He brought back the gigantic jawbone of the largest whale ever caught off the Greenland coast in the 1830s. He erected the jawbone at the top of his garden in the 1830s. It dominated East Forth Street until it was removed in the 1980s.
8. Windmill Road was named after the windmill which stood at the Braehead on the raised land behind the Bishop's Palace in Shore Street….